Be a part of Customary Biotools for his or her upcoming webinar on fish well being on 7 October 2022.
Leisha McGrath from the Marine and Freshwater Analysis Centre in Eire will speak about how parasitic amoeba is changing into a constant menace to the salmon aquaculture market attributable to local weather change, and the way the flexibility to frequently monitor fish shares for the illness earlier than it turns into symptomatic could be a big contribution to fish well being and to farms world wide.
Leisha will showcase how herself and different scientists have used a quick, high-throughput and cost-effective gene-expression qPCR assay, with the Biomark™ HD system, to establish genes which regulate the innate immune response of salmon upon an infection with Neoparamoeba Perurans.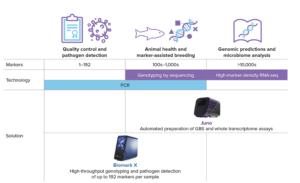 Register for the webinar right here.